Anglo Singapore International School was founded in 2003. It started out with the aim of providing expatriate Singaporeans with a highly academic school, comparable with those in Singapore. Over the years, our consistently high standards have attracted many other international students. 
The campus had a humble beginning with only four students on a site specifically chosen for its central, yet secluded environment; one modest school block nestled right in the heart of the city of Bangkok, at the end of Soi Sukhumvit 31. The school population grew to over 500 students of more than 20 nationalities, resulting in a second campus built in 2011 to accommodate the growing demand.
In the ensuing decade and a half, Anglo has grown in size and stature, developed new traditions, and seen many students come through its doors. Following the guiding values of diligence, respect, responsibility, and progress, Anglo has succeeded in establishing a reputation for excellence, and has become a dominant player in international school education in Thailand.
<! ========= Cool Timeline Free 2.7.1 =========>
Timeline
2003
Anglo was founded in 2003 as a small school with a simple goal: to provide Singaporean residents of Thailand with the same standard of education that they would receive at home. The Singaporean curriculum, which mirrors many Western education systems' curriculum, provides a depth and breadth of subjects and learning areas for students. This includes a strong maths, science, and English background, along with a variety of other subject areas critical to shaping young minds. The holistic education approach used at Anglo allows students to not only achieve educational excellence, but also to assimilate into the student body of their home country with ease.
2003 – 2011
At the start, the school had one modest campus in a central, yet secluded, part of Bangkok, to allow for easy access but the kind of low-distraction environment that education requires. Specifically, Campus 31, located at the end of Soi Sukhumvit 31, was where it all began, with a modest enrolment of only 4 students. In the following years, enrolment increased exponentially, growing to over 500 students from 20 nationalities being represented within the Anglo community. This was one of the main factors driving the construction of a second campus in 2011, to cope with the increasing enrolment demand.
2012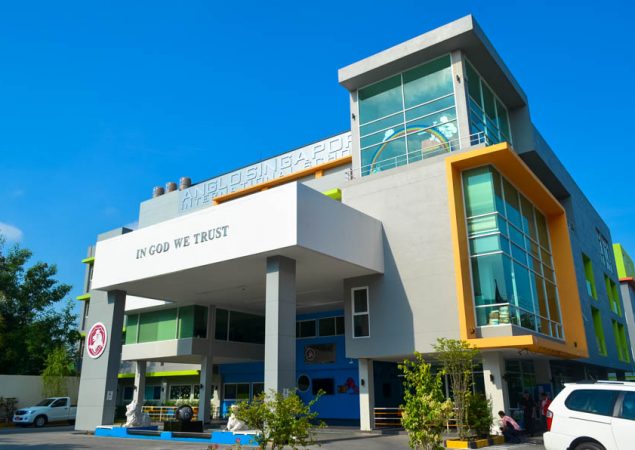 Campus 64 was completed in 2012. While Campus 31 maintains its natural, rustic beauty, Campus 64 leverages the benefits of modern convenience, with a modern look to match. Situated at Punnawithi BTS station, on Soi Sukhumvit 64, this second campus is a purpose-built school, equipped with the latest state-of-the-art facilities and technology. It caters to students of all ages, from kindergarten to junior college.
2013
The new Campus 64 was well-received, and the student population continued to increase. Therefore, in 2013, an expansion of Campus 64 was undertaken, with construction of the B Building. This included additional classrooms, a competition-size swimming pool in the courtyard, a new gymnasium, and a canteen. Collectively, these improvements added to the opportunities for Anglo students, as well as allowing for additional enrolment.
2014
Anglo built its 3rd campus in Korat in August 2014. As the first Singapore international school in Nakhon Ratchasima, Campus Korat opened its doors to students from Kindergarten through Upper Primary. Expansionary plans went into effect, as Anglo was determined to redefine international school education in the area.
2017
As the 2017 school year began, the original Campus 31 location joined in on the expansion plans, with the opening of a new building. This facility included thematic classrooms, a computer lab, swimming pool, canteen, and an enhanced, multi-purpose gymnasium. The purpose of these expansions has not been merely to accommodate more students, but to provide additional enrichment opportunities. They are designed to facilitate student education and growth, as part of the comprehensive, holistic education curriculum at Anglo.
2018
In 2018, the latest addition to the Anglo family is set to open. First announced in June 2016, Anglo acquired 16 rai (around 6 acres) of land within the City Link Community. Construction began in 2017, with the intention of Campus Korat at Nakhon Ratchasima offering kindergarten through junior college education. Beginning with the 2018 school year, this new campus will be open for business, heralding the future of international school education in Thailand.